For those crying foul over President Obama's pledge to achieve further cutbacks in carbon-dioxide emissions, consider this: Some of the affected coal-fired power plants were likely already in compliance and many others were well on their way toward meeting the objectives of Obama's plan before it was even announced Monday.
Although the
Obama plan
- already dubbed 'Obamacare for the Air' by its critics - is being touted as an excessively burdensome regulation which will achieve up to a 30 percent reduction in carbon dioxide emissions over 2005 levels by 2030, it's important to note that's not universal.
According to the Associated Press, even some states which rely heavily on coal as an electricity-producing source won't have to go that far.
Ohio is targeted for a 28 percent reduction, even though it has been one of the top four energy users for years, is often in the top two (behind Texas) for greenhouse gases and continues to be one of the most coal-reliant states, with about 70 percent of its energy from coal.
Some analysts have figured out that, after playing with numbers, the onus on some states will be as little as a 6 percent reduction.
The Obama plan has set off a flurry of divergent responses - some predictable, some not - across the Internet.
Some industry lobbyists claim it's unreasonable while some environmental groups are saying it's more symbolism than substance - more along the lines of an Obama administration public relations gesture.
Perhaps it is no surprise, then, that Ray Evans, FirstEnergy vice president of environmental and technologies, told me that the Akron-based utility - while still digesting the plan - doesn't believe it'll be that onerous.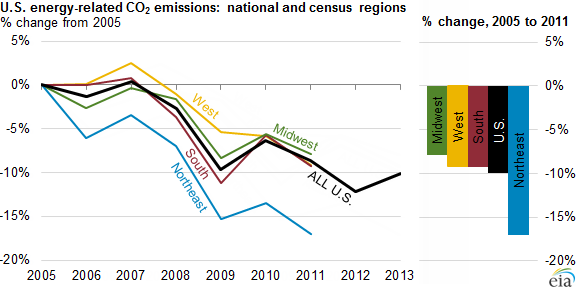 Source: 
U.S. Energy Information Administration, State Energy Data System (SEDS) 2014
The EIA data shows differences among the states, with the Northeast posting the steepest reductions since 2005.
Sure, the sluggish economy of recent years, especially right after the Wall Street crisis of 2008, has reduced electricity needs because there has been less manufacturing and, thus, fewer greenhouse gases.
The fracking boom and market shift toward a cleaner fossil fuel, natural gas, has contributed.
But according to the EIA's analysis, the Northeast has generally fared better than the Midwest and other states because it takes the issue of climate change more seriously.
In the Northeast, there's denser, more energy-efficient population centers. It has a stronger mix of natural gas, nuclear power, and renewable energy.
The Northeast, according to the EIA, has the nation's three lowest-emitting states per unit of economic output (New York, Connecticut, and Massachusetts), and two of the top-five states with the cleanest electricity sources (Vermont and New Hampshire). 
For an extensive,
state-by-state
analysis of energy sources prepared by the federal EIA, go
here
.