Of the many unexpected developments this Earth Day, here's one that will surprise some people: U.S. petroleum exports are running so high they reached a record 4.3 million barrels a day in December, the first time such U.S. exports of petroleum products have exceeded 4 million barrels a day in a single month.
That's the word today from the U.S. Energy Information Administration, which has this nifty
graphic
to help show which parts of the world most of the domestically refined products are going. 
It shows, among other things, much of the gasoline produced by Gulf Coast states goes to Africa.
Much of the diesel, gasoline, and propane produced between Idaho and Ohio winds up in Mexico.
The text at the bottom states that while the East Coast still imports a lot of gasoline from Europe and Canada, those imports are on the decline.
For 2013 as a whole, petroleum products made in the United States averaged 3.5 million barrels a day, a 10 percent increase over 2012, which also was a strong year for domestic production, the EIA said.
T. Mason Hamilton, petroleum markets analyst for the EIA's Office of Energy Markets and Financial Analysis, said the dynamics of import-export balances of energy products are too complex to explain in a couple of sentences, but agreed it's a good sign for energy security when production's running high. America's refinery capacity hit 92.7 percent on Dec. 20, he said.
According to an
EIA post
in early March, U.S.-made exports of diesel and other distillates have been especially strong to South America and Western Europe.
Since mid-2011, the government agency said, the United States has exported more petroleum products than it has imported.
So why do gas prices stay propped up higher than most Americans want?
That, too, requires a more complex examination of global forces affecting energy markets.
But, according to the EIA, global consumption of energy products outside of the United States rose 7.6 percent from 2008 through 2013 while they declined in this country.
About 75 percent of what's produced by Gulf Coast refineries - which produce about half of what's made in the United States - gets exported, much of it to Latin America. But exports to Africa increased a whopping 81 percent last year, the EIA said.
Perhaps not so surprising - though certainly disappointing, nonetheless - is the recent discovery of more Asian carp genetic material in another Ohio waterway that connects to others and eventually flows out to Lake Erie.
This time, it was the
Muskingum River
. A report issued Friday said 10 positive hits for bighead Asian carp were found in 222 recent samples. 
Bighead Asian carp, which can grow to 110 pounds, are one of two Asian carp species considered the largest threat to the Great Lakes. The other is the silver Asian carp, which doesn't grow as big but is so highly sensitive to motor vibrations from boats that they'll leap from the water and become fleshy projectiles.
The carp, imported by Southern fish hatcheries to eat pond scum years ago, escaped confinement starting with floods of the 1990s. They have been migrating northward since.
In 2011, there were two positive hits for silver Asian carp in
Lake Erie's Maumee Bay
and four hits for bighead Asian carp in
Sandusky Bay
. In 2012, there were three hits for silver Asian carp in Lake Erie's Maumee Bay and 20 for that same species in Sandusky Bay. Last year, there was one positive hit for silver Asian carp in the Maumee River, near downtown Toledo.
And there have been multiple pieces of genetic material found in the Chicago area, including beyond electrical barriers designed to repel the fish from advancing toward Lake Michigan.
The disclaimer here, as has been made when other positive hits have been made for the genetic material, also known as eDNA (environmental DNA), is that no actual fish have been found.
Yet.
But when you've got loosely floating pieces of genetic material floating around in the water column, that obviously should be raising some red flags and resulting in a call for action.
Some of the background on the problem, including a long-awaited U.S. Army Corps of Engineers report to Congress outlining multi-billion dollar options, can be found
here
 and
here
.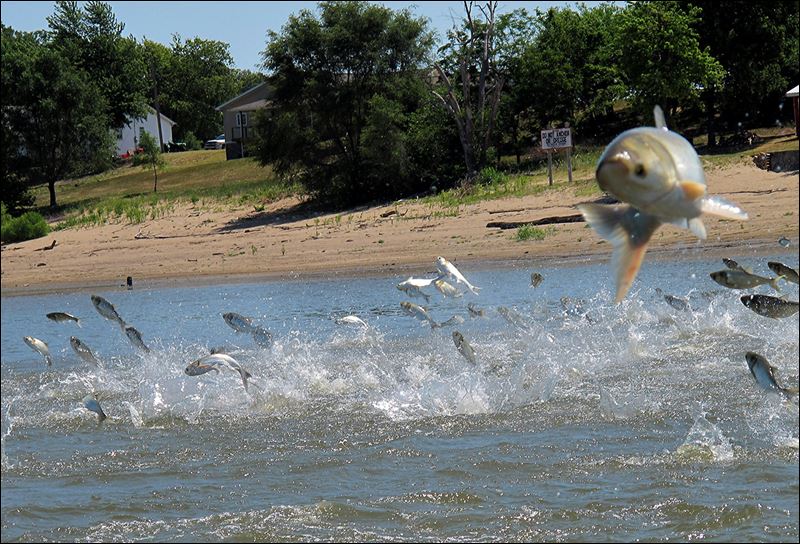 Unfortunately, Asian carp are showing signs of being every bit as elusive as one of North America's most dreaded, land-based invasive species, the emerald ash borer, which has swept through the Great Lakes region and appears to be fulfilling grim predictions that it will eventually destroy 10 billion shady ash trees east of the Rocky Mountains.
They're both, in different ways, examples of how invasive species can spread in unknown directions despite efforts to contain them, almost like biological wildfire.