Canada's longstanding fear of getting sucked into a diplomatic water war with the United States is back on.
In a recent
interview
with William Marsden of Postmedia News, published by several Canadian news outlets, Gary Doer - Canada's ambassador to the United States - predicted U.S. demands for water five years from now will be so great they will make the controversy over the proposed Keystone XL pipeline and other large pipelines "look silly."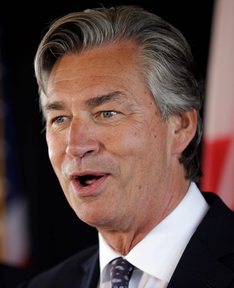 Gary Doer. Photo credit: Associated Press.
He urged Canadians to start doing a better job of protecting their water resources.   
Then came this fine
column
by The Globe and Mail's national affairs columnist, Gary Mason, which captures the essence of why Canadians are justified in fearing America's growing demand for water.
Mason cited parts of California experiencing "their worst drought in modern history" to the rapid depletion of the world's largest known freshwater aquifer, the Ogallala Aquifer, which serves several Midwestern prairie and Southwestern states, some of them major grain producers. 
The Globe and Mail, for those who don't know, is Canada's largest-circulation national newspaper. 
Mason's column came complete with this, um - how do I put it? - catchy headline: "In a water war, Canada could get hosed."
It would be fun to write off these sort of articles as Canadian paranoia.
Except they make some valid points.
The United States is indeed on a collision course over water. 
It has been for years.
America's growing water stress was a driving force behind the eight-state Great Lakes water-management compact that has been endorsed, in principle, by Canada's two affected provinces, Ontario and Quebec. 
The Great Lakes compact seeks to keep water in this region. 
A non-binding agreement in principle - i.e. a public acknowledgment - is the best that can be done in that regard because states cannot enter into legally binding contracts with provinces or other foreign entities.
The heavy negotiations that went into that compact led to some eye-opening revelations, not the least of which was how Americans don't quite appreciate or understand the Canadian perspective when it comes to something as simple as protecting the Great Lakes.
Put yourself in Canada's shoes. Or winter boots, for that matter.
The USA, to many Canadians, is a big resource-sucking machine.
We covet Canada's water, natural gas, and timber.
We sometimes think of the Great Lakes as our own, when - in fact - it's a shared resource.
Of the 40 million people who live in the Great Lakes basin, 30 million are in the United States and 10 million are in Canada. In other words, one of every four Great Lakes residents are Canadians, plus there are rights to the water claimed by tribes and First Nations.
One of the biggest examples of America's oversight was a 1985 agreement among Great Lakes governors that served as a preamble/forerunner to the compact, asserting that Great Lakes water needs to stay in the basin. It was approved without input from Canada's two provinces.
The current Great Lakes compact is fraught with exemptions, as things usually are when politicians, lawyers, and lobbyists get years to meddle.
There's a controversial exemption which allows water to be shipped out of the region in small containers.
At one point during the negotiations, one of Canada's largest environmental groups - the Council of Canadians - opposed it because it feared it would be a wolf in sheep's clothing and lead to multiple diversions for many communities - especially those in Wisconsin and Ohio - which straddle the lake region's natural basin without actually being inside of it.
That battle is now being played out in Waukesha, Wis., near Milwaukee, which is trying to get a permit for Lake Michigan water even though it lies just outside the lake's natural basin.
The mayor of Thunder Bay, Ont., Keith Hobbs, is not at all happy about Waukesha's effort. 
Keith Hobbs. Photo credit: City of Thunder Bay.
In this CBC News
article
, Hobbs said a permit for Waukesha would set a bad precedent, while the general manager of Waukesha's water utility, Dan Duchniak, said it would be no worse than "taking a teaspoon of water out of an Olympic-sized swimming pool."
Another interesting twist: Hobbs is now the chairman and director of the
Great Lakes and St. Lawrence Cities Initiative
, a Chicago-based coalition of mayors and other government officials that attempts to unite the region's cities on policy matters. 
So where is all this headed?
Good question, especially as the effects of climate change become more acute and continued to stress already-stressed areas.
Great Lakes water levels are expected to be much closer to normal this summer, meaning the most water-blessed region of North America will be sitting even prettier while demands for water are expected to increase in areas of need.
It's important to keep in mind, though, that the 40 million people who live in the Great Lakes region see their shared resource differently.
In 2001, I had this
story
 about how former President George W. Bush's simple acknowledgement of how Canada's vast fresh water extends beyond the Great Lakes set off a firestorm of a response in Canada.
George W. Bush, shown in 2008. Photo credit: Associated Press.
In 2007, former New Mexico Gov. Bill Richardson dealt his bid for the 2008 presidential nomination a serious blow when he told the Las Vegas Sun the Great Lakes is
"awash with water"
that could someday help quench the Southwest's thirst. He quickly recanted.
Just five months after Richardson's miscue, former Ohio Lt. Gov. Lee Fisher caught flak when, at a Toledo business talk on March 31, 2008, he raised the specter of someday
selling Lake Erie water
to other parts of the world. He also quickly reversed himself, after learning his comments didn't play well.
Yes, Canadians have a different perspective about the Great Lakes. 
Different, but not necessarily wrong.